Coronavirus (COVID-19): MedAdvisor can help.

Click here

;
Medication Management
Offer your patients a convenient way to manage their medications with our suite of leading medication management tools, which have been proven to increase adherence - leading to better health outcomes.
MedAdvisor App (Learn More)
SMS
Voice Reminders
Script Tracker
Learn More
Services Recording
Our comprehensive suite of recording forms offers a fast and simple way to record services, so you don't need to use any other platform. We also offer a free migration service allowing you to transfer any existing patient data into PlusOne. Ask us how
Clinical Interventions
MedsCheck/Diabetes MedsCheck
Dose Administration Aids
Staged Supply
HMR Referral
6CPA data collection
Monitoring (inc Blood Pressure, Glucose, Cholesterol etc)
Health Checks
Leave Certificates
Immunisation Recording (inc Flu Vax)
Inhaler Technique
MedAdherence
Referral Letters
Health Services Hub
Browse through a marketplace of services from the 6CPA and third-party sponsored programs.
Start earning more revenue from services by using the Health Services Hub to:
Review opportunity for revenue based on number of eligible patients from your dispense system for any service
Easily send targeted promotional messages to anyone you have contact information for in dispense (SMS, App or email)
Collect bookings from your customers using the integrated booking system in PlusOne
Action pop-ups detailing opportunity for a customer when you are dispensing medication
Record any required interventions in PlusOne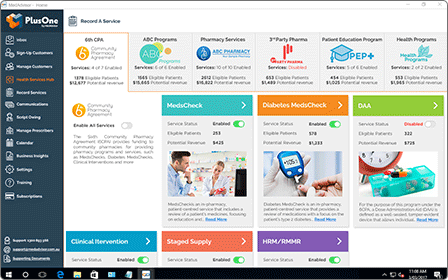 Learn more about the Flu Vaccination program
Script Owing
Save time and minimise lost revenue from owing scripts with the popular Script Owing function. With the click of a button, send Owing or Last Repeat script requests to doctors via fax or secure web portal.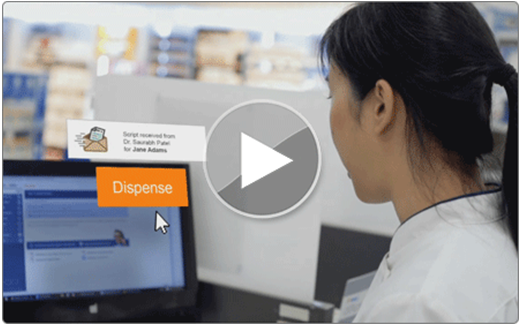 Learn How
Customer Communications
Build stronger customer relationships by staying connected even between visits. With PlusOne, you can easily send targeted messages to customers via App or SMS messages, such as:
Promotions
Upcoming Health Campaigns
Health Services
Holiday opening hours and more
Business Insights
Keep a pulse on your business performance and track staff KPIs so you can maximise revenue opportunities from the services offered within PlusOne.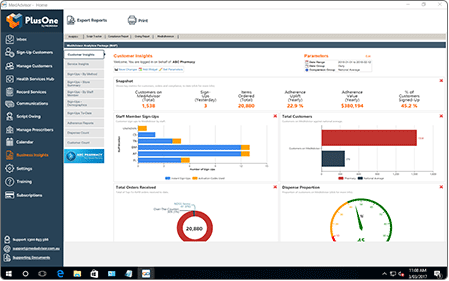 What's New
MedAdvisor is committed to bringing new innovations to pharmacy as well as continuous improvement of existing features.
Health Services Hub
The much anticipated Health Services Hub will be launched in March 2018 to help you drive customer demand for the services you offer, including flu vaccinations, MedsChecks and more.
Integrated Booking System
Allow your customers to easily make bookings for the services you offer from the MedAdvisor App or website based on your availability.
Discover all the features of PlusOne
and unlock your full potential today
MedAdvisor App
SMS Reminders
Voice Reminders
Script Tracker
Health Services
Customer Communications
Script Owing
Business Insights