Automatic Medication List
Smart list of your medications, updated every time you fill scripts. Full script, repeat, dosage, and supply details.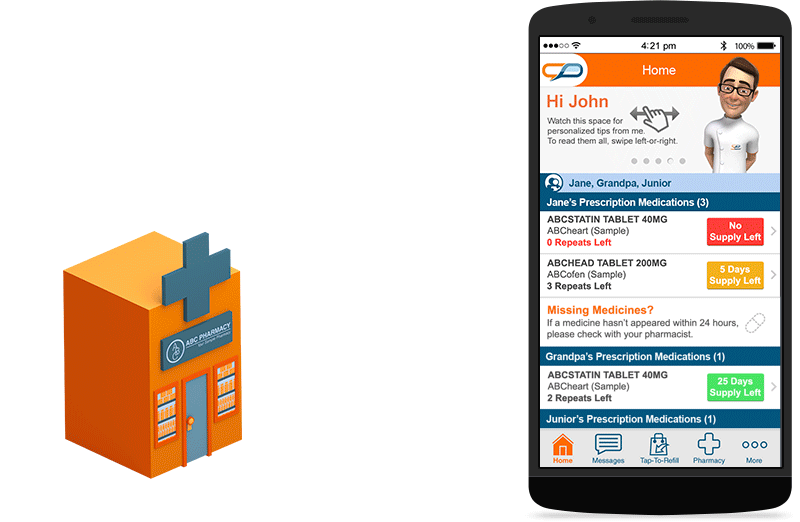 MedAdvisor's home screen provides an automatic list of all your prescription medications, updated whenever you fill scripts. Whenever you fill a script your home screen is updated, typically within one hour.
The home screen provides basic information including the active ingredient and brand name of the medication, total repeats you have remaining, and the expected days' supply remaining.
The traffic light colour code warns you when your days' supply is low or you're out of supply, as follows:
Green

indicates you have sufficient medication left.

Yellow

indicates you're running low.

Red

indicates that you have no medication left, and may need to visit your doctor or pharmacy.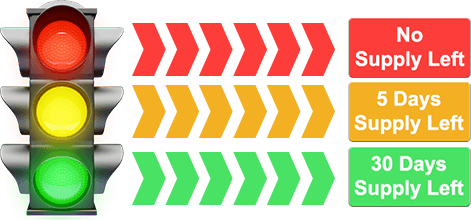 Tapping any medicine will take you to the Medicine Details screen for complete information about that medication, settings, scripts records and more. Read More...
Non-Prescription Meds or Vitamins
You can also create your own reminders for your non-prescription vitamins and other supplements. For example, MedAdvisor can remind you when you're running low on your daily Vitamin C supplement.
Non-prescription items are not automatically updated. You must specify the number of days' supply you have if you'd like to receive a reminder when you need to replenish your supply.