Medication Information
Full information for all your medicines in easy-to-access sections, so you can quickly learn more.
For all your prescription medications MedAdvisor offers detailed, personalised information. The Medicine Details screen shows:
The active ingredient, brand name, strength and form (e.g. tablet, capsule, inhaler) of the medication.
An image of what the medication looks like, for all common tablet and capsule form medications.
Personalised directions (from the pharmacist). This will match the label stuck to the medicine box or bottle.
Full details of scripts and repeats – read more here.
Days supply indicator. This is updated with additional days whenever you fill your script, but can be edited at any time.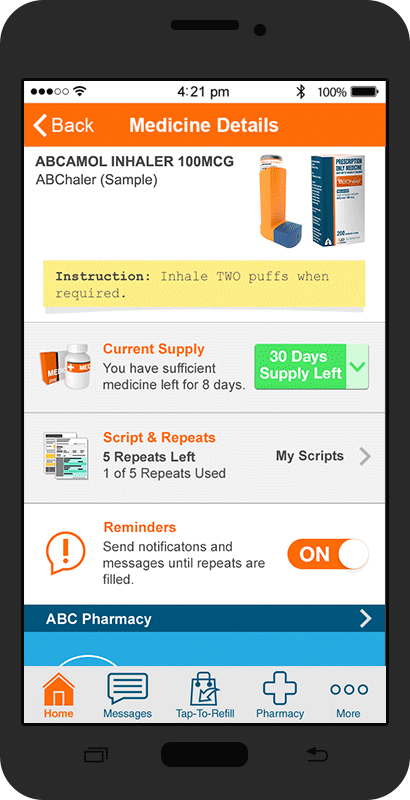 Consumer Medication Information (CMI)
The full manufacturer information for the product is provided at the bottom of the screen, in easy fold-out sections. Look up important facts like:
Common Uses
How-To-Use Guide
Cautions/Warnings
Possible Side Effects
Safety Checks
Medication Training
For selected prescription medications MedAdvisor offers additional training and information to assist you.
For these products the Medicine Details page may include the product logo, images of the device or box for the product, helpful tips or links to additional training.
For selected products you may also receive training messages providing additional advice such as:
How to properly use the medication
The benefits and importance of regular use
What to do if you miss a dose
How to manage problems with the medication
How to best manage your health condition
Coping with side effects
And other helpful tips...
You can opt-out of such messages at any time with the switch at the bottom of the message.