Fill-My-Scripts and See-My-Doctor
Fill-My-Scripts
Fill-My-Scripts automatically reminds you when to fill your recurring scripts, and chases you up if you forget.
When you are close to running out of a medication, MedAdvisor will send you a message providing information on the medication running low.

MedAdvisor knows when you fill scripts so it will only send these messages if you haven't filled your script five days before your medication runs out. If you don't fill the script and don't mark this medicine as 'Finished', MedAdvisor will remind you again on the day the medicine runs out, and again when you've been without medication supply for three days as a final chase.
Reminders arrive as push notifications (pop-ups) on your mobile device, or via email for PC/web users of MedAdvisor.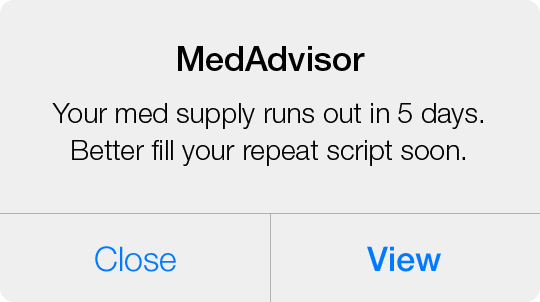 Fill-My-Script messages include a button to add the item to a Tap-To-Refill order, so you can easily order your replacement medication for that item. You can also edit the days' supply remaining if you have more/less supply than indicated or can mark the medicine as 'Finished' if you're no longer taking it.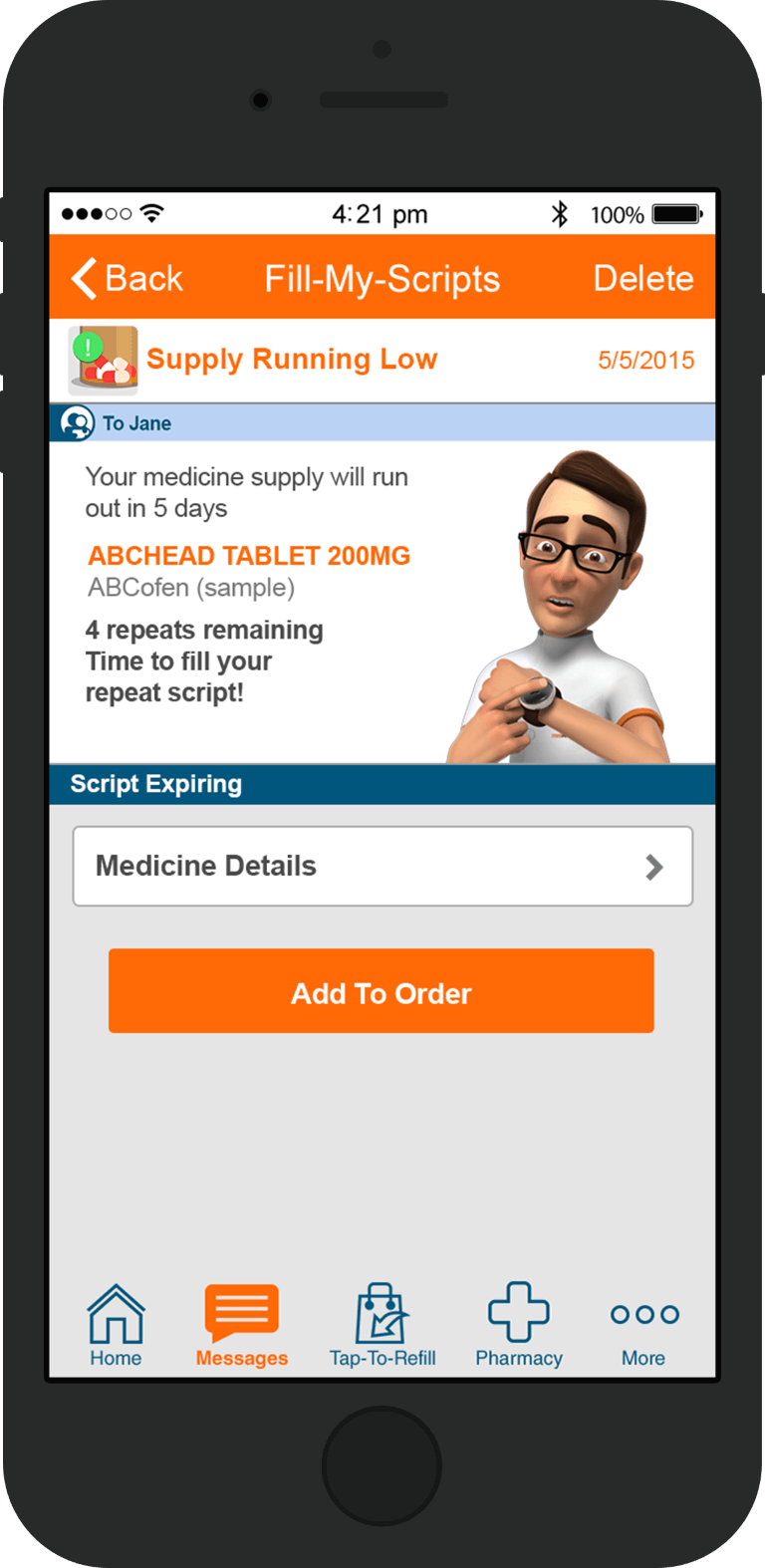 See-My-Doctor
See-My-Doctor reminds you when you'll need to see your doctor for new scripts.
When MedAdvisor detects that you have no repeats left for a long-term medication it will suggest you see your doctor for a new script two weeks before you take your last dose of that medicine. This gives you time to ensure you get to your doctor before you run out.

You can mark that you have a new script (if you already have a replacement script) and MedAdvisor will not remind you further until after you've filled your next script.
Script Expiry Warnings
If your script for a long-term medication is about to expire, MedAdvisor will warn you two weeks before the expiry. You may choose to fill the script/repeat before it expires, or you may need to see your doctor for a replacement script. (typically prescriptions are only valid for 6 or 12 months in Australia).
Note that script expiry warnings are not offered for certain restricted medications (S8 class).