Favourite Pharmacy
Details and contact information of your 'favourite' or regular pharmacy are easily accessible in the Pharmacy screen of MedAdvisor, and are highlighted elsewhere in MedAdvisor, for example in messages that prompt you to visit or contact your pharmacy.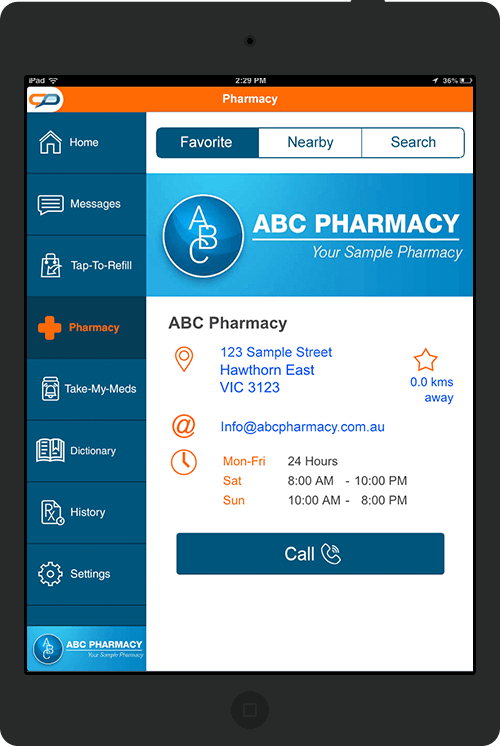 You can easily see their opening hours, address, phone number, email (tap to call them) and other services your pharmacy offers.
By default the pharmacy that first enrolled you in the MedAdvisor program will be set as your favourite pharmacy.
Pharmacy Locator
If you need to change your favourite pharmacy, for instance if you move house or work, you can search for other MedAdvisor network pharmacies using the Pharmacy Locator, in the Nearby or Search tabs. Search for those nearby your current location, or use Search and enter a postcode, suburb or state. You can change your favourite pharmacy with the button provided below each entry – although you'll need to visit your new pharmacy with all your scripts to allow Tap-To-Refill ordering.
If you're travelling, it's recommended that you visit other MedAdvisor pharmacies if you need to fill scripts. This ensures your records in MedAdvisor will always stay up-to-date. Note you don't need to change your favourite pharmacy just because you want to fill scripts temporarily at another pharmacy – your records will still update provided the pharmacy is a MedAdvisor network pharmacy.